Tired and want to get your energy back?
Want to improve your eating habits?
Have a few stubborn pounds that you want to lose?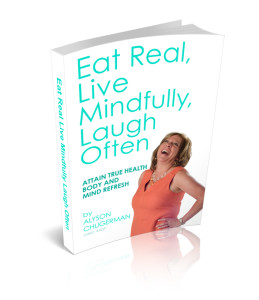 Please join us for the 2019 21-Day Spring Refresh, based on the highly successful program in the book
Eat Real, Live Mindfully, Laugh Often –The Attain True Health Body and Mind Refresh
by Alyson Chugerman, CHHC. Spring is the perfect time to Refresh your mind, body and spirit as we prepare for Summer. It is also great to be with a live, interactive online community to support you along the way!
There are three basic components to kickstarting your body's journey towards optimal health – eat real, live mindfully and laugh often. This may sound simple – but think about it… Do you often open a box or stop at a fast food restaurant because you are tired or it is just more convenient? By eliminating these small steps and just eating real, clean food, you can make a huge impact on your health. Real food makes you feel alive! How truly mindful are you about what you are eating and how the choices you make on a daily basis are affecting your health? We all have choices! And lastly, when is the last time you laughed? I mean really laughed from your the top of your head to the tip of your toes? Laughter is the best medicine…
Studies have shown that toxins weaken our body's ability to burn fat and cause a multitude of health issues. If you've lost weight and gained it back over and over again or are battling a health problem, participating in this Refresh would be extremely helpful.
They say it takes three weeks to form a habit. If you're looking to set yourself up for long term success by creating healthy habits that are sustainable (so that you can get off the dieting rollercoaster once and for all) , all while being supported by a professional health coach, this 21-Day Refresh is for you!
Enjoy any of these vibrant benefits:
Weight Release
Mood Improvement
Pain Relief
Improved Energy
Headache Relief
Improved Digestion
Asthma Relief
Eczema Relief
Fibromyalgia Relief
Blood Sugar Stability
Sharpened Mental Focus
Improved Stress Handling
You'll receive:
All guidelines and instructions to help you before, during and after the Refresh so that you can ease in to the program, get the most out of it for maximum results and ease back in to your everyday habits after the program
100+ seasonal recipes, sample menu ideas and grocery lists
Daily inspirational emails from Alyson full of encouragement and guidance
Access to our private online Facebook group that gives you access to all the other 'Refreshers' that are doing the program alongside you.  It's the perfect place to get support, accountability and encouragement and a fun place to share experiences, recipes, ideas, stories and more!
We will begin with a 'preparation' week to get you prepared mentally and physically. The process begins on Sunday, March 17, 2019. During this week, you'll gradually shift away from the foods that are typically difficult to digest, are allergenic, addictive, artificial and acidic. Emphasis will be placed on nourishing, detoxifying whole foods. You are encouraged to modify your diet by eliminating or cutting back on caffeine, sugar, dairy, meat, gluten and alcohol. You'll receive your Preparation Week guidebook, meal plans and recipes in addition to access to our members-only Facebook group.
The 21 days of our Refresh starts on Sunday, March 24, 2019. We'll gently clean our bodies and minds using real, whole, delicious food, detoxifying supplementation and simple lifestyle suggestions. This is not about fasting or juicing; it's about letting your body enjoy real food and getting back in tune with itself. Each morning, you'll receive an inspirational email and each week you'll receive additional guidance, recipes and suggested meal plans, all while connecting with other Refreshers in our Facebook group.
On Sunday, April 14, 2019, you'll receive a 'Post-Refresh' guidebook so that you're guided back in to mainstream eating again. As you're consciously introducing foods that you had removed from your diet during the past 21 days, this is your opportunity to further recognize which foods may potentially be causing sensitivity in your body. Then again, you might feel so great that you don't feel the need to introduce things back in and you may decide to continue eating this way! This week, you'll also be provided with checklists so that you can measure the progress that you've made during the program. You'll also continue to receive support and encouragement from your health coach and your fellow Refreshers in our online group.
To ensure that you get the most out of the Refresh, you're required to order the following products (and have them in hand ideally before the Refresh starts) so that your body is performing at optimum capacity during the program:
1. Shaklee Healthy Cleanse Bundle – The bundle combines a carefully selected combination of Shaklee supplements that are designed to enhance your detoxification. They support healthy digestion and elimination, increase focus and energy, assist with hunger management and replenish gut bacteria.
2. Shaklee Life Shake (30 day supply and flavor of your choice) – The Life Shake is designed to jump start weight loss, maintain lean muscle mass and keep you full and satiated throughout the day. Full product ordering instructions will be provided at time of registration. Approximate cost = $79.70 (Healthy Cleanse Bundle) + $77.50 (Shaklee Life Shake) + S&H.